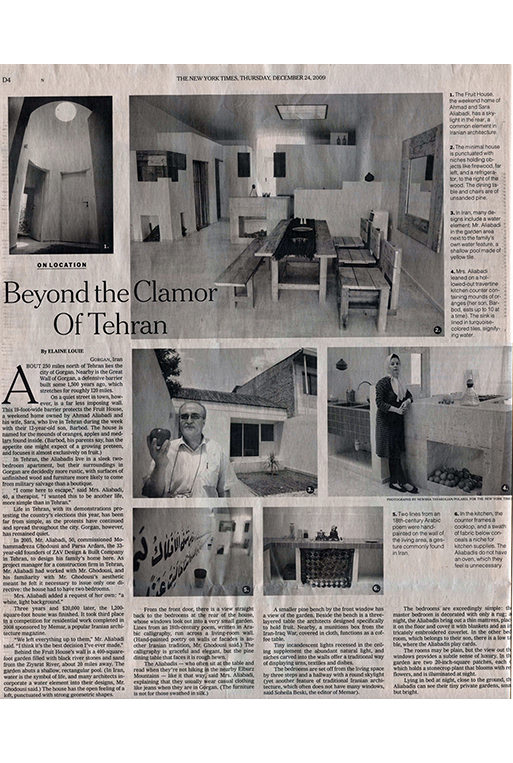 2009/12/23
The New York Times Newspaper
An article about Barbod Fruit House (Gorgan, Iran) project.
Beyond the Clamor of Tehran
About 250 miles north of Tehran lies the city of Gorgan. Nearby is the Great Wall of Gorgan, a defensive barrier built some 1,500 years ago, which stretches for roughly 120 miles.
On a quiet street in town, however, is a far less imposing wall. This 19-foot-wide barrier protects the Fruit House, a weekend home owned by Ahmad Aliabadi and his wife, Sara, who live in Tehran during the week with their 12-year-old son, Barbod. The house is named for the mounds of oranges, apples, and medlars found inside. (Barbod, his parents say, has the appetite one might expect of a growing preteen, and focuses it almost exclusively on fruit.)
In Tehran, the Aliabadis live in a sleek two-bedroom apartment, but their surroundings in Gorgan are decidedly more rustic, with surfaces of unfinished wood and furniture more likely to come from the military salvage than a boutique.
"I come here to escape," said Mrs. Aliabadi, 40, a therapist. "I wanted this to be another life, more simple than in Tehran."
Life in Tehran, with its demonstrations protesting the country's elections this year, has been far from simple, as the protests have continued and spread throughout the city. Gorgan, however, has remained quiet.
In 2005, Mr. Aliabadi, 50, commissioned Mohammadreza Ghodousi and Parsa Ardam, the 33-year-old founders of ZAV Design & Built Company in Tehran, to design his family's home here. As project manager for a construction firm in Tehran, Mr. Aliabadi had worked with Mr. Ghodousi, and his familiarity with Mr. Ghodousi's aesthetic meant he felt it necessary to issue only one directive: the house had to have two bedrooms.
Mrs. Aliabadi added a request of her own: "a white, light background."
Three years and $20,000 later, the 1,200-square-foot house was finished. It took third place in a competition for residential work completed in 2008 sponsored by Memar, a popular Iranian architecture magazine.
"We left everything up to them," Mr. Aliabadi said. "I think it's the best decision I've ever made." Behind the Fruit House's wall is a 400-square-foot garden filled with black river stones and sand from the Ziyarat River, about 20 miles away. The garden abuts a shallow, rectangular pool. (In Iran, water is the symbol of life, and many architects incorporate a water element into their designs, Mr. Ghodousi said.) The house has the open feeling of a loft, punctuated with strong geometric shapes.
From the front door, there is a view straight back to the bedrooms at the rear of the house, whose windows look out into a very small garden. Lines from an 18th-century poem, written in Arabic calligraphy, run across a living-room wall. (Hand-painted poetry on walls or facades is another Iranian tradition, Mr. Ghodousi said.) The calligraphy is graceful and elegant, but the pine dining table that faces it is rough-hewn.
The Aliabadis — who often sit at the table and read when they're not hiking in the nearby Elburz Mountains — like it that way, said Mrs. Aliabadi, explaining that they usually wear casual clothing like jeans when they are in Gorgan. (The furniture is not for those swathed in silk.)
A smaller pine bench by the front window has a view of the garden. Beside the bench is a three-layered table the architects designed specifically to hold fruit. Nearby, a munitions box from the Iran-Iraq War, covered in cloth, functions as a coffee table.
Tiny incandescent lights recessed in the ceiling supplement the abundant natural light, and niches carved into the walls offer a traditional way of displaying urns, textiles, and dishes.
The bedrooms are set off from the living space by three steps and a hallway with a round skylight (yet another feature of traditional Iranian architecture, which often does not have many windows, said Soheila Beski, the editor of Memar).
The bedrooms are exceedingly simple: the master bedroom is decorated with only a rug; at night, the Aliabadis bring out a thin mattress, place it on the floor and cover it with blankets and an intricately embroidered coverlet. In the other bedroom, which belongs to their son, there is a low table, where the Aliabadis play cards.
The rooms may be plain, but the view out the windows provides a subtle sense of luxury. In the garden are two 20-inch-square patches, each of which holds a stonecrop plant that blooms with red flowers, and is illuminated at night. Lying in bed at night, close to the ground, the Aliabadis can see their tiny private gardens, small but bright.
Works
BARBOD FRUIT HOUSE